Are you looking for some awesome places where you can cool off in Plano? The days of summer are upon us and so is the Texas heat. Whether you're seeking family-friendly spots or venues for adults, the options are plentiful. Read our diverse list of the best ways to cool off in Plano.
Splash Pads
Splash pads are interactive fountains that spray water onto participants in various ways. They're popular among parents of small children because water doesn't accumulate, which reduces the risk of accidental drowning. The surfaces of these pads typically consist of non-slip concrete or rubber to minimize injuries. Splash pads are also sometimes known as spray parks, wet decks, spraygrounds, and spray pads.
Campbell Green Sprayground
Visit the Campbell Green Sprayground at Campbell Green Park for a free experience that's enjoyable for kids and adults alike. It features brightly colored decor that acts as exciting mazes and obstacles. Run through the spraying jets or under buckets of water. Beyond the sprayground is the expansive long-standing park established almost 50 years ago. The park sits on 17.5 acres and has a pickleball court, soccer field, tennis court, basketball court, and trails.
Location: 16600 Hillcrest Road, Dallas.
Summer hours: 10 a.m. to 8 p.m. Saturday through Thursday and 2 p.m. to 8 p.m. on Friday. This schedule is for Memorial Day weekend through Labor Day 2023.
McCord Park Splash Pad
The splash pad in the rear of McCord Park is also known as the Little Elm Splash Pad. Because of a few extra amenities, adults find it entertaining also. This cooling spot has a unique safety feature that most splash pads don't have, as it uses recirculated water treated with chlorine. Extend your stay after splashing by participating in the park's other activities. Play on the disc golf course, dine at the picnic tables, walk along the paved trails, or fish from the dock.
Location: 1001 Witt Road, Little Elm.
Summer hours: 8 a.m. to 9 p.m. daily May to September 2023.
Pools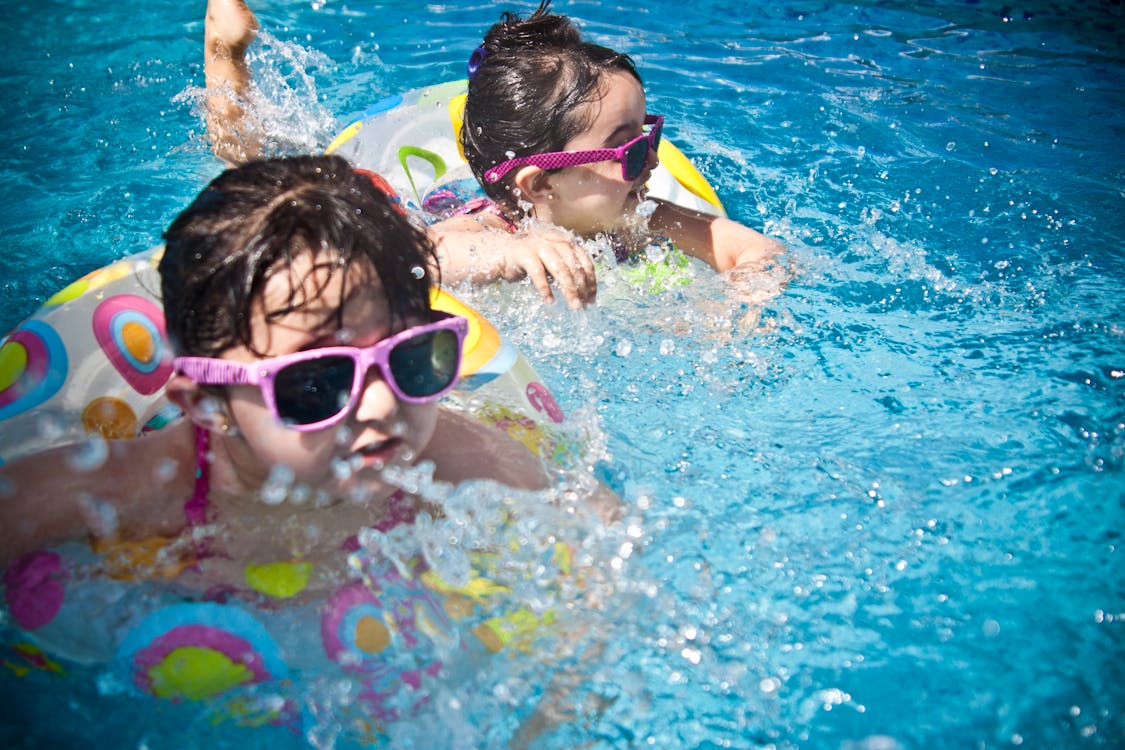 The Texas Pool
If you've never been to the Texas Pool, you're in for a treat. This outdoor saltwater pool is shaped like the great state of Texas and has 168,000 gallons of water, appearing on the National Register of Historic Places. Feel free to bring your own food and non-alcoholic beverages. Have a delightful time jumping from the diving board, cooking on the gas grills, or playing water volleyball. For younger children, the pool has a wading area and two water slides in the shallow water.
Texas Pool Foundation members and children under 2 years old receive free admission. Guests of members pay $5. Non-members cost $10.
Location: 901 Springbrook Drive, Plano.
Summer hours: 11 a.m. to 8 p.m. Tuesday through Friday, 10 a.m. to 8 p.m. on Saturday, noon to 6 p.m. on Sunday, and closed on Monday. This schedule is for Memorial Day through Labor Day 2023. When school begins in August, the pool opens 5 p.m. to 9 p.m. on weekdays.
Jack Carter Pool
Another phenomenal outdoor pool in the Plano area is the Jack Carter Pool. You and your family can spend the day cooling off on the slides, in the lazy river, under the spray features, or on the wet deck areas. For experienced swimmers, the facility has a 12 1/2-foot-deep pool with a climbing wall and diving platform. Be adventurous and body surf on the FlowRider surf simulator. Guests at least 42 inches tall can partake after signing a waiver. The members of your family that are 6 years old and under can experience the tot pool twice a week.
Plano Parks and Recreation members receive free admission. Children who are 3 to 15 years old pay $5. For anyone aged 16 and over, the cost is $9. There's a surcharge for non-residents. Concessions, changing rooms, and rentable lockers are available for your convenience.
Location: 2601 Pleasant Valley Drive, Plano.
Summer hours: Noon to 6 p.m. on Monday, noon to 8 p.m. on Tuesday, Thursday, Friday, and Saturday, noon to 6 p.m. on Sunday, and closed on Wednesday. The tot pool is open from 10 a.m. to noon on Tuesday and Thursday. These schedules begin on May 27, 2023. The pool opens from 1 p.m. to 6 p.m. on Memorial Day 2023.
Water Parks
Hawaiian Waters Garland
Formerly Hawaiian Falls, Hawaiian Waters Garland is a new and improved water park that's sure to wow visitors of all ages. Here are just some of the attractions to explore:
16,000 square foot rolling wave pool.
Lazy river with a water volcano and waterfalls.
Two inner-tube slides for one or two riders from a 45-foot tower. Pick from the half-and-half enclosed slide or the fully enclosed slide.
Pineapple Plunge for your family members that enjoy a quick drop and fast acceleration.
Play pool for younger children.
For non-experienced swimmers, life jackets are available and highly recommended. This water park has age, weight, and height requirements for many of its attractions. You can purchase day passes and season passes for admission to the park.
Location: 4550 N. Garland Ave., Garland.
Summer hours: Opening day is May 20, 2023. Please check the website for actual hours because times vary due to weekends, special events, and closings.
The Cove at the Lakefront
Another Little Elm location where you can cool off is The Cove at the Lakefront. This indoor water park has a retractable roof, so you can enjoy it all year long. Like the Jack Carter Pool, The Cove also has a FlowRider surf simulator. Other amenities include:
Deep water pool.
Slides.
Sprayground.
Snack Shack.
Lazy river.
Private cabanas.
Admission prices range from $11 to $18, depending on age and day of the week. Children aged 2 and under receive free admission. Senior discounts, individual and family summer passes, and annual passes are available for purchase. There's a surcharge for non-residents.
Location: 417 Lakefront Drive, Little Elm.
Summer hours: 11 a.m. to 8 p.m. Monday through Friday, 10 a.m. to 6 p.m. on Saturday, and noon to 6 p.m. on Sunday. This schedule begins on May 22, 2023. Toddler time resumes on May 30, 2023, from 8 a.m. to 10 a.m. Monday through Thursday.
Does Your Car Need To Cool Off Too?
If your car's check engine light is on or it's in need of other services, contact us today to book an appointment. Our team at Huffines Chevrolet Plano is ready to meet your automobile needs. Stop by our showroom to view our new inventory selections. We're dedicated to serving the Plano and Dallas areas.