Did you know that Americans spend nearly 18 days per year in their cars? Believe it or not, your car's cleanliness can have a significant impact on your well-being. A clutter-free space can reduce stress and increase energy and restfulness. In addition to the mental health benefits, keeping your vehicle clean will preserve its value and longevity. Let's go through essential steps and expert tips to help you achieve a spotless and gleaming interior you can be proud of.
What Materials Do I Need To Clean My Car?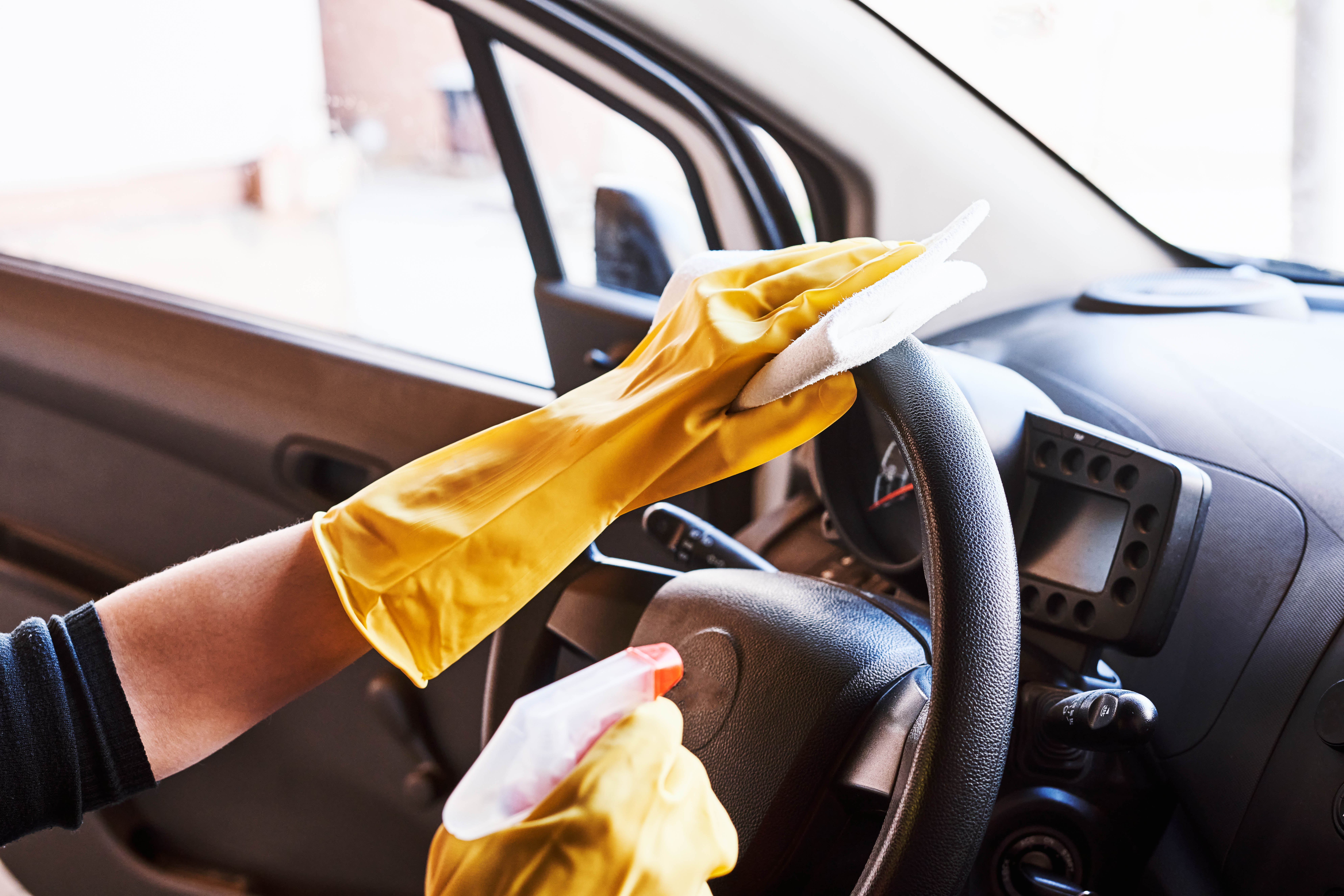 First, gather all the materials needed for an efficient and effective cleaning. Here are some of the most important items you'll need:
Bucket.
Microfiber washing mitt or soft sponge.
Soft bristle brush.
Interior cleaner spray.
Glass cleaner spray.
Handheld vacuum.
Carpet/leather cleaner.
You should be mindful that some common household cleaners contain chemicals that can potentially harm your car's surfaces, such as leather, cloth, and plastic. We recommend focusing on products specifically designed to deep clean your car while protecting its finishes.
Where Should I Start When Cleaning My Car?
It's easy to become overwhelmed when you begin to clean a vehicle, especially if grime, dirt, and clutter have built up over time. You should start by setting aside a significant chunk of time, depending on how dirty your vehicle is. Properly cleaning a car is not always an easy process, but it can be simplified by breaking it down into steps. Here's a rough outline of how you can make your car even cleaner than the day you drove it off the lot:
Remove Interior Items and Wash Floor Mats
Except for built-in items such as seats and consoles, you should take out everything that can be removed from your car. Start by washing your floor mats so they can dry while you clean the rest of your car. For carpeted mats, shake them out to remove large debris before vacuuming to eliminate small crumbs that can become embedded in their fibers. If your mats are washer-safe, pre-treat them with stain remover before running them through the washing machine. Alternatively, you can use a carpet cleaner designed for car mats.
Non-carpeted mats are typically quicker to deal with. With materials such as rubber, vinyl, and silicone, use a hose to wash away the dirt before thoroughly scrubbing with a combination of dish soap and warm water. Alternatively, you can use a cleaning product designed for rubber floor mats.
Vacuum the Interior
With the floor mats still removed, thoroughly vacuum your car's interior, including the seats. To reach tighter areas, use brush attachments and consider adjusting the positions of your seats. If you don't have a vacuum, grab a handful of quarters and head to your local car wash or gas station equipped with a vacuuming station. For an especially deep clean, use a carpet-cleaning machine on your vehicle's floor. These machines can also be used on cloth seats.
Dust and Wipe Down Surfaces
You'll need to break out a microfiber cloth or duster to collect the dust from areas like your car's center console, dashboard, steering wheel, and cupholders. Don't overthink this process; even a damp rag can get the job done when it comes to collecting dust. Disinfecting wipes can also be a helpful tool for surface cleaning, especially in high-touch areas, but make sure they are safe for use on your car's interior materials. Be careful when cleaning areas such as center console buttons and touch screens, as these areas can be especially sensitive.
Invest in an inexpensive shine-inducing gloss wipe or spray to make your car look as good as new. Taking time to buff out your car's surfaces can make the difference between an average-looking cleaning and a professional-level detail.
Here's a pro tip: when it comes to tight areas that can't easily be reached, apply baking soda to an old toothbrush. Wet it and use it to scrub any tough-to-reach locations. Additionally, a foam brush or wet cotton swab can be useful for reaching into vents and crevices.
Clean Interior Windows
Use an alcohol-based glass cleaner to freshen up your interior windows. Make sure you only use products specifically designed to clean glass. Our favorite strategy is to use two microfiber cloths — one for directly applying the product to the window and another to wipe the glass clean.
Vacuum and Clean Your Seats
If you haven't already, take time to vacuum your seats. Follow up with a cleaning product designed for your seat's material. For example, leather seats can be wiped down with a leather cleaner created with cars in mind before applying a leather conditioner. When it comes to cloth seats, start by removing stains with a stain removal product before attacking them with an upholstery cleaner paired with a scrub brush. Avoid potential molding by only soaking areas that have room to properly dry.
Freshen and Deodorize
A new-car smell can make all the difference in your final product. If you're looking for a quick solution, gel or commercial air fresheners can do the job. For a homemade air freshener, add baking soda or activated charcoal with a few drops of your favorite essential oil into a plastic-lidded container. Then, slice a few vents into the lid, and place it underneath one of your seats for a DIY air freshener with a custom scent.
For a quick exterior scrub, head to your local car wash to put the finishing touch on your vehicle. Alternatively, washing and detailing your car's exterior on your own can be a rewarding and satisfying process.
Ready To Upgrade Your Clean and Detailed Car?
Are you cleaning out your car because you're considering an upgrade to a new ride? Here at Huffines Chevrolet, we have an extensive selection of new Chevrolets to choose from. Our used inventory is also full of reliable vehicles that can cater to anyone's budget. Stop by our Plano, Texas, dealership today to see why our family-owned and operated business has stood the test of time for nearly a century. From our sales staff to our finance team to the technicians in our service center, we are eager to serve you and your automotive needs.