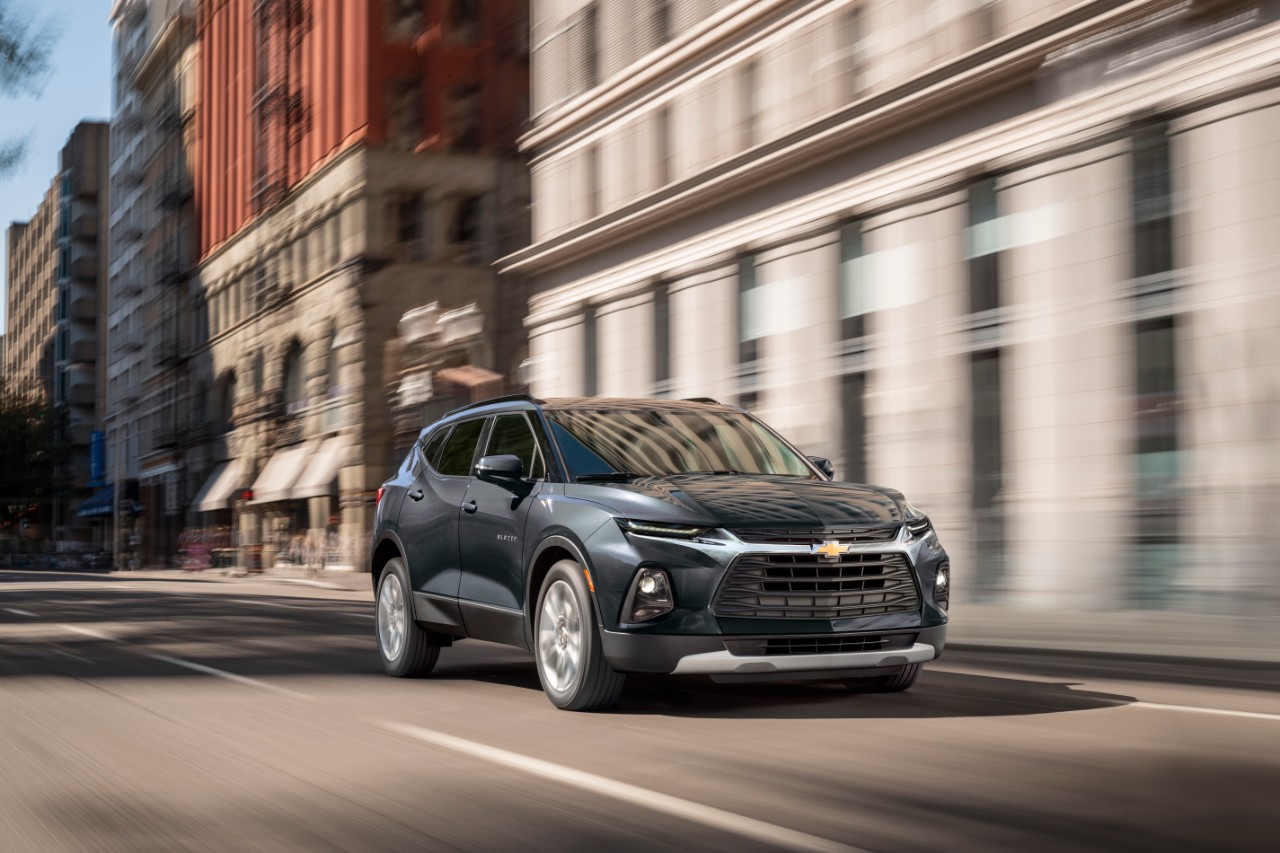 The Chevy Blazer is one of the most popular SUVs in the world and has been for multiple decades now. You don't develop a reputation like the Blazer has by accident. The Blazer remains a popular choice among Plano, Texas residents because it's a high-quality vehicle, and nowhere is that more clear than in the many wonderful entertainment and technology features available in this car.
Comfortable Interior
The interior of the Chevy Blazer is designed to make every rider's experience as pleasant as possible. Technological features such as powered seat adjustments make it easy for you and your passengers to adjust the interior of your Chevy Blazer in order to make it as comfortable as possible for everyone. Combined with the comfortable design of the seats, you get a relaxing ride every time.
Easy Smartphone Integration
Our smartphones are among our most prized possessions now and are rarely out of reach. The ability to quickly and easily connect your smartphone to your Chevy Blazer is an integral feature of making your Blazer as functional as possible. With easy Bluetooth linking technology, you can use your phone for a broad range of functions all integrated within the systems of your Chevy blazer.
Multiple Trims
When shopping for a new or used Chevy Blazer, there are multiple trim options for you to consider. With the basic L trim, three classes of LT trim, the stylish RS trim and high-end Premium trim, each option provides a new way for you to shop for and customize your Chevy Blazer experience.
When it comes to entertainment and technology within your Chevy Blazer, having multiple trims means there are multiple options in order to find the technology package that best suits you and your needs. The Chevy Blazer has some of the best features around. Whether you prefer a slimmed down experience, or are looking for state-of-the-art options across the board, there is a Chevy Blazer trim and configuration that is perfect for you.
Highway Lane Keeping Technology
Keeping you and your passengers safe on the highway is one area where the technology in your Chevy Blazer can really come to the forefront. On its most basic level, blind spot monitoring helps you become more aware behind the wheel, by using sensors to monitor traffic in the blind spots of your Chevy Blazer and alerting you if a vehicle moves into that space in order to prevent an accident while trying to change lanes.
Just as it's important to know when you can safely switch lanes, it also is vital to stay within your lane when driving. The Chevy Blazer includes many safety features designed to help you navigate lanes on the highway more safely. Lane departure warnings let you know if you are beginning to drift into a neighboring lane without having signaled a switch. Lane keep assist increases the protection by offering gentle course correction when your vehicle begins to drift out of your lane and into a neighboring lane, in order to prevent you from straying and causing a potentially unsafe situation.
Collision Avoidance Systems
Staying in lane is not the only important consideration when driving your Chevy Blazer, and there are additional technology features designed to keep you safe in other settings as well. You can purchase a Blazer that features collision warning systems to help you avoid any potential collisions whether you're moving forward or backward.
With collision monitoring systems, your Chevy Blazer will alert you anytime you are at risk of a collision, such as when someone or something crosses your path while reversing, or when following a car too closely while driving.
Advanced safety features, such as adaptive cruise control, can keep you even safer on the road by making adjustments for you when needed. If your Chevy Blazer is too close to the vehicle in front of you for your current speed, the Blazer adapts and applies brakes as needed to provide you with enough space to stop safely in the event of a sudden application of the brakes by the vehicle in front of you.
Automatic Liftgate
Not every piece of convenience technology in your Chevy Blazer even requires you to be in the vehicle to take advantage of it. If you've ever found yourself walking out to load your car and realized you didn't have a free hand to open it, the automatic liftgate on a Chevy Blazer can help. The automatic liftgate allows you to open the rear of your Chevy Blazer by simply waving your foot underneath a sensor. This means you don't need to put down what you're carrying in order to open up the back of your Blazer, making it easy to load it up and get moving.
Premium Technology Options
When you're shopping for a Chevy Blazer, there is a broad range of entertainment and technology features you can choose from when in the market for premium technology options. The upgraded eight speaker sound system provides you with the clearest possible music playback at all times. If you decide to take advantage of the expansive cargo capacity of your Chevy Blazer and can no longer see out your rear-view mirror, digital rear view options allow you to regain your vision even when loading your Blazer to the top.
Multi-stop navigation capability allows you to plan a route with intermediary points between where you are and where you need to be, such as stopping off for food or to pick up a passenger, so you don't need to keep updating your navigation as you drive to account for new points. Additional premium traffic options include traffic avoidance to help you find the quickest route to your destination, and adjust if needed when accidents or construction cause delays.
If these entertainment and technology features appeal to you, then the Chevy Blazer might be the right choice for your next used or new SUV purchase in Plano, Texas. Here at Huffines Chevrolet Plano, we are proud to be the area's leading Chevrolet dealer. Come visit us in person or contact us online or by phone and our trained staff can provide you with more information on your options for a new or used Chevy Blazer.